Brown Rabbit and her Lucky Star
It goes almost without saying, that in the most part, readers of yesterday's story
The Lucky Star
, would recognise Brown Rabbit and the lost star, to be
Jennie
and Matilda Mae.
And the wood was, of course, twitter. When grey rabbit first came upon the circle of friends, she noticed those doing everything in their power to help.
Susanne Remic
-
Jennie, Tilda, and Lullaby Trust champion supporter
- was my inspiration here.
And grey rabbit? Well that was me. For I certainly struggled when I first heard Jennie's tale. I fell to pieces. I couldn't understand the devastating impact that anothers life - overnight - had upon my own. And for my
own well-being, I did consider walking away.
But thankfully, as in the story, I chose the better path. And if you have supported Jennie, Susanne or the
Lullaby Trust
in any way, then I feel it worthwhile pointing out that you are Grey Rabbit too.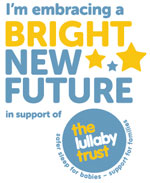 As Jennie knows only too well, we can never bring Matilda back. But we can help each other. We can show compassion and we can show love. We can embrace a bright new future and hope that with our help and support - other families may never require the services of the
Lullaby Trust
.
Thank you x