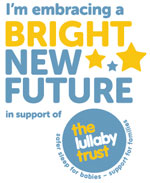 What follows is a bedtime story called The Lucky Star. If you read closely you are sure to recognise some of its characters.
It helps celebrate the work of FSID Charity, who today embark on a bright new future known as The Lullaby Trust.
The Lucky Star is the first story I have written, and came about after 2nd February 2013. When I - like grey rabbit and many others - decided not to cross the path...
The Lucky Star
Grey rabbit lived in a wood. A large wood with a million paths - criss crossing and leading every other way. And countless trees - straight and long and tall, with leafy branches reaching out to shake the hand of neighbouring boughs.
It was a dense wood, but bright and healthy and full of life.
Grey rabbit walked in the wood each day. On one occasion she saw another rabbit up ahead. A brown rabbit, but like herself in every way. Brown rabbit looked so very sad that grey rabbit stopped a moment to watch. Then in a hurry, and having reached her turning in the path, she thought it best to look away and carry on.
However she did not forget, and the next day whilst walking again, she saw the same brown rabbit - in the same place - looking even sadder than before.
By now others from the wood had gathered round. Grey rabbit paused, and heard from a little bird that brown rabbit was sad because she had lost her special star.
Now grey rabbit understood. To lose a special star was very sad indeed! Just to hear the story made her cry. She felt so sad she thought perhaps it best to walk away. To cross the path, forget all about brown rabbit and be glad instead that her own special star was at home and was safe.
But in that moment she saw brown rabbit smile. She saw that the other animals were doing their very best to help. Some with important things like blankets and food, and others who had stopped only for a moment, to nod and smile and let their friend know that they cared.
Grey rabbit knew then, that if she could help brown rabbit in any way, she absolutely should. She walked forward, joined the circle of friends, and talked and listened and held out a paw.
And in doing so she did help. She learned all about the lost star - which was the saddest story she had ever heard. And in the days which followed, she listened as brown rabbit promised the entire wood, that should they all help each other, perhaps other special stars would not be lost - and this she found, made her very happy indeed. One day maybe the lost star could become a blessing for them all.
And of brown rabbit? Well she went on - of course she did. She grew strong and tall and beautiful. She helped many animals and her story spread far and wide - tales were told and lullabies were sung - and others (who had also lost a special star) knew that should they need a friend, brown rabbit would help and would listen. In time other bright stars found their way to her keeping - and she loved them all the more because of the little star which had been lost.
And although she missed it every single day - and never forgot how bright its light had shone - brown rabbit named it her lucky star, and each night whispered thanks for the love that they had shared. And high above, beyond a thick green canopy of leaves, it twinkled in the night sky for all the wood to see.
The end.
For Jennie, Matilda Mae and The Lullaby Trust.
Please visit Jennie's blog to read posts from other bloggers and learn more about this very worthwhile cause.
Today I am also linking to the inspiring Wednesday Words.
Thank you to Karen Davis, who kindly agreed for her beautiful artwork to accompany this post.